How Effective Asset Management Can Enable Preventative Maintenance and Maximize Utilization
(SPOT Tracker and TruQC have joined forces to become TRU, a Jones Company)
Operators often have to maintain hundreds, if not thousands, of valuable assets at their facility or site at all times. Establishing and following a maintenance schedule can not only become a hassle but can also turn into a drain on both asset utilization and productivity without the proper organizational systems in place.
Effective asset management can help managers keep tabs on each of their assets and corresponding maintenance schedules. Digitalizing these processes, utilizing solutions like TruQC, provides a better way to easily track people, projects, and resources from one platform and enhance your preventative maintenance strategy. But why is it important to use asset management to prioritize preventative over reactive maintenance?
Find out more below about the benefits of preventative maintenance and how it works in conjunction with your asset management solution!
What is the Difference Between Preventative and Reactive Maintenance?
Preventative maintenance is planned maintenance—such as repairs, replacements, adjustments, cleaning, lubrication— all meant to prolong the life of a variety of company assets. Essentially, it is a systematic approach that aims to care for a piece of equipment while it is still running at an acceptable capacity.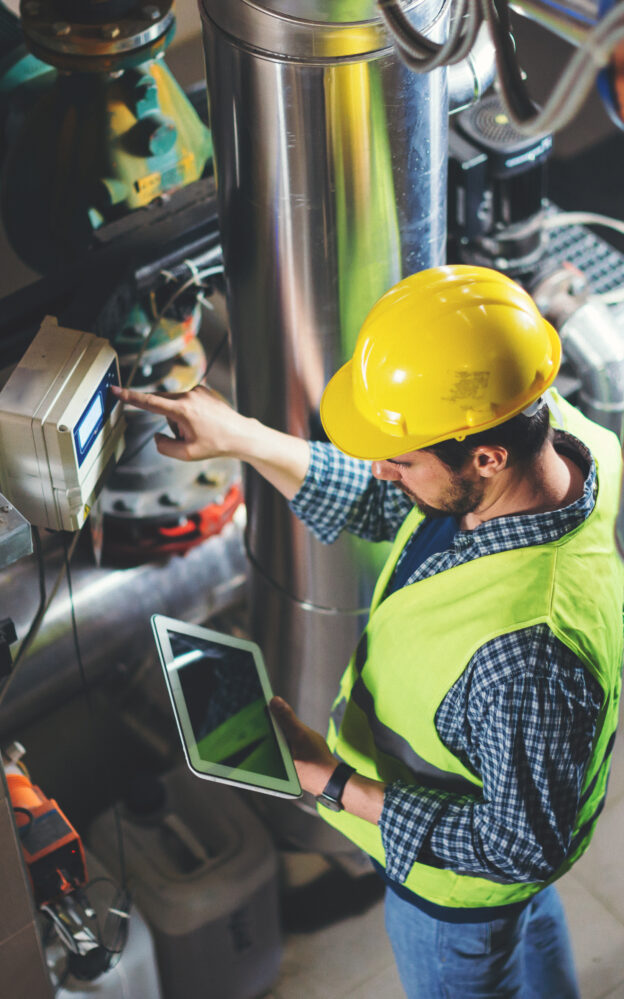 Meanwhile, reactive maintenance usually occurs when the asset has suffered some sort of breakdown that makes it unacceptable for use until repaired or replaced, therefore, you are reacting to problems as they arise. Whether it is a simple malfunction or an entire equipment failure, a maintenance technician identifies the issue and works to restore the asset to operable capacity. Until this happens, the whole process is usually down and the effects are costly.
Machines aren't built to last forever, which is why reactive repairs are almost inevitable—but steps should still be taken to minimize them and their associated downtime as much as possible. After all, effective asset management often comes down to maximizing asset utilization via proactive (i.e. preventative) maintenance instead of simply reacting to the asset malfunctions as they arise.
So what can you do to effectively reduce reactive maintenance as much as possible? It all comes down to the data!
Data is the Foundation of Maximizing Asset Utilization
Digital records containing good, clean data of the maintenance performed and condition on inspection are both essential to effective asset management and the reduction of reactive maintenance. In order to create these records, you need to digitalize the field and data collection process around asset maintenance so that the data can then be fed into back office systems that are used to analyze metrics, trends, and more.
There are two different ways in which the digitalized data can be used to inform your maintenance strategies:
Predictive maintenance uses data to predict when an asset will need to be repaired or replaced based on algorithms, artificial intelligence, and other types of data points.
Preventative maintenance uses data provided by the supplier or machine producer in which they typically recommend a specified amount of time for certain inspections, updates, and more.
By way of an example, let's say your digital records show that a piece of equipment is due for some preventative maintenance work. You can use asset management software to send notifications for open work that needs attention or to schedule work orders for future maintenance tasks. It's that simple to seamlessly track asset productivity, condition, and utilization from one digitalized platform.
While data can help you better plan and schedule preventative maintenance, predictive maintenance is not even possible without data. As they work in conjunction with each other, both predictive and preventative maintenance should be prioritized in order to reduce reactive maintenance; that way, businesses spend less time reacting to random asset failures and more time performing data-driven maintenance based on actual asset experience over time. This all works towards the ultimate goals being:
To empower successful decision-making
To keep the job site running as smoothly as possible by minimizing downtime and surprises
But these are far from the only benefits of prioritizing preventative/predictive maintenance over reactive. So what else can you stand to gain from preventing problems rather than reacting to them?
Why Preventative Maintenance Over Reactive?
There are many reasons why preventative maintenance should be prioritized over reactive, including but not limited to:
Minimizing the chance of malfunctions/failures, costly repairs, and unscheduled downtime
Reducing the risk to people and preventing injuries
Extending the life of equipment
Increasing productivity
But the number one reason, put simply, is that it's merely better to prevent a failure than react to it. This saves your company time, resources and—you guessed it—money down the line.
Example: Predictive/Preventative Maintenance Makes Turnarounds More Efficient, Saving You Money and Reducing Downtime
Let's say your company is due for another turnaround. The typical turnaround has costs that quickly add up. Every day that your plant is down means you lose out on valuable productivity and revenue. Extending your turnaround maintenance window, even by just a day or two, can be the difference between profits and slipping into the red.
For this reason, a well-planned turnaround process is essential to minimizing downtime, and the best way to ensure this is to use predictive maintenance analytics to inform preventative maintenance strategies. This means using data to predict when an asset will need to be repaired or replaced can help businesses schedule the downtime instead of the downtime being the result of reacting to a problem. This, in turn, allows a company to not only have a more efficient turnaround process, but to also have an increase in both uptime and asset utilization.
Moreover, adequate preventative maintenance leading up to a turnaround primes all of your assets for whatever maintenance work is needed. That way, any third party assisting with the turnaround can get in and get out as efficiently as possible, allowing you to get back up and running ASAP.